If you do a quick google search for "self-care" ideas, you'd be hard pressed to find a list that doesn't include a cup of tea.
Makes total sense, right? Tea is healthy, delicious, enjoyed hot or iced and makes you feel better any time of the day, every day of the year.
Drinking tea contributes to your overall health and well being. It soothes and stimulates. It improves your day and your lifestyle.
Tea is liquid therapy. Is there anything more self-care than that?!
What is Self-Care?
Don't fall into the trap of thinking that self-care is selfish, or needs to involve elaborate wellness retreats or expensive spa days (although those are super awesome too).
Self-care is a priority, not a luxury.
Self-care is simply making time to do the things that make your soul shine and your heart sing…whatever those things are for you.
It looks different for everyone but doesn't have to be difficult, costly or time consuming.
It's an activity we consciously choose to do to nourish and replenish our mind, body and spirit. It's also a necessary component of self-love.
It's not all bubble baths and hot stone massages. Drinking tea is obviously a huge one for me, but here are a few other simple things I do for self-care:
Dry brushing my skin (google it…it's awesome)
Sit outside and listen to the birds
Work out
Call my Mom
Meal prep
Read/watch a video
Have a nap
Purge/organize something
Legs up the wall (yoga pose)
Foam roll my back
Wash and moisturize my face
Go to bed early
As women, we often struggle to find balance and put ourselves first.
There's a really good reason why you're supposed to put your own oxygen mask on first. If you aren't well, you can't take care of others.
The older we get, the busier life becomes and the harder it is to find calm amidst all the overwhelm. Self-care has never more more important (or needed) than it is right now in today's ever changing and chaotic world.
Our key to success, ladies, is proactively engaging in self-care so we've always got fuel in our energy tank…before it's too late and we're left running on fumes.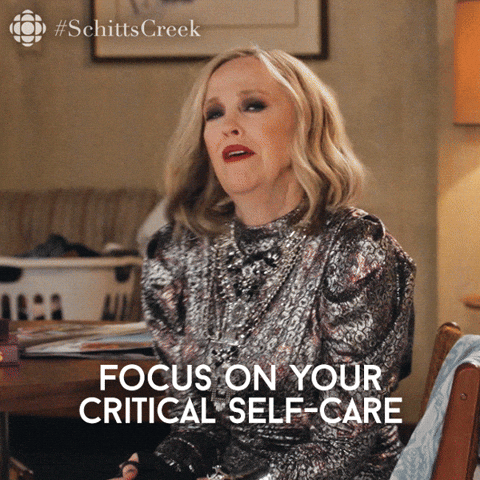 What happens when we don't make time for self-care?
We get stressed. And exhausted. And then stress weakens our immune system and wreaks havoc on our hormones, resulting in a bunch of health issues and weight gain. Which of course leads to more stress and exhaustion.
The vicious cycle repeats…just like that never ending pile of laundry.
Including self-care rituals into your daily routine can really amp up your joy factor and boost wellness. One of the easiest ways you can do this is to create a daily tea ritual.
Daily Tea Rituals
Creating a daily tea ritual is a simple way to create small moments of self-care throughout the day. It's a reminder to slow down and connect with your thoughts and feelings. It's an inexpensive indulgence you gift yourself.
You can do it once, or several times a day, depending on your schedule (when you wake up, mid-morning or afternoon break, evening wind-down, before bed, etc.)
The most important part is that you create a "ritual" vs. a "habit".
A habit is something we do on auto-pilot, like brushing our teeth or making the bed. Making a cup of tea is a very common habit, but the real magic happens when you turn it into a mindful ritual.
A ritual requires conscious focus and thought. It's a symbolic action with deeper meaning of intention and connection.
A daily tea ritual is just taking some "me" time to drink your tea while doing something that brings you joy. It doesn't have to take too long and even a 10-15 minute self-care break to do one of the following will be benecial:
sit in complete silence with your thoughts
listen to your favourite music/podcast
write in a gratitude journal
plan your goals/week/meal plan
knit/crochet
read a book/magazine
spend time in nature
go on a walk/exercise
If you're thinking…well that all sounds nice, but I'm busy AF during the day and don't have a minute to myself. I want you to know that I see you, I hear you and I feel you.
During my 30 year corporate career (especially during the final 10 years), I lived a very stressed out, unhealthy and overwhelmed lifestyle and I absolutely believed that I didn't have time for any breaks.
Then I discovered (purely by accident and because I was so stressed out) the hugely beneficial practice of doing a simple tea meditation every time I made myself a cup of tea. This literally changed my life.
I began to truly understand the positive health benefits of calming my mind and taking the time (hello self-care!) to better manage my stress level.
This small (but mighty) change played a huge role in my ultimate decision to leave the corporate world and start my own tea biz at age 49.
Tea Meditation (5-8 minutes)
When you make a cup of tea, you can easily evolve the preparation process from being a habit to a very mindful and peaceful ritual. The process of preparing a cup of tea should be slow and soothing.
You intentionally decide to give yourself this gift of self-care.
Ok. I know it might be sounding a little "woo-woo" if you aren't really into mindfulness or meditation, but trust me…it just means making your tea with complete awareness about everything that's going on during the entire process. I promise, nothing too scary for you to handle.
I can't tell you how much this simple practice saved me during my former life when I was working in a very toxic environment. Think "Mean Girls" meets "The Devil Wears Prada" if that helps paint the picture.
I would literally use those tea breaks as my lifeline throughout the day to temporarily escape all the stress and tension I was feeling. If that office kettle had broke, things would have turned ugly very quickly!
Ok…now back to the woo and what to do for a simple tea meditation.
1. Take a few deep, cleansing breaths and become completely aware of your surroundings.
2. Choose your favourite cup and pick the type of tea you want, based on how you feel in that moment.
3. Put the kettle on. Keep taking deep breaths while you start to relax your body, quiet your mind, and release any tension in your neck and shoulders.
4. Feel your feet planted firmly on the floor and activate all your senses so you're aware of every sensation while you breathe and wait for the water to boil.
5. When it's done, as you pour the water, notice and admire the colour of your tea and breathe in all the aromas. Feel the warmth in your hands and the steam on your face as you raise the cup to your mouth.
6. Now. Take your time and drink your tea very slowly, enjoying the flavour and savoring every sip. Take it all in. Fully commit to being aware of all your thoughts and feelings during this entire experience.
Your tea meditation is now done in as little as 5 minutes (the time it takes to make your tea) and you get all the restorative benefits of meditating with mindfulness.
Seriously. If me and Oprah can do it, you can too!!
Liquid Therapy for the 5 Pillars of Personal Health
In order to truly flourish and be considered "well", we need to take care of our five main pillars of personal health – physical, emotional, social, spiritual and intellectual.
PHYSICAL SELF-CARE is any way you love and care for your body. It includes your nutrition, exercise & movement, hydration, seeking help from a doctor when needed, and getting enough sleep.
Tea is good for you. It's a plant. A beautiful and magical gift from Mother Nature that's been used as a health tonic for over 5,000 years. The healthiest tea to drink is the one you like the most. Because then you'll drink more of it, and less unhealthy options.
When you exercise, tea can rev you up and improve your workout. I love sipping on energizing tea with caffeine like Morning Hustle (Black) or Beauty & Brains (Green). It gives your mind and body a boost, but with a feeling of calm alertness (no coffee jitters!).
Tea is also a fabulous way to stay hydrated. A popular myth is that tea is dehydrating, but it totally isn't. Drinking tea is even better than water because you get the additional health benefits that come from the tea! If you prefer something cold and refreshing, check out my blog on How to Make the Perfect Iced Tea.
Drinking tea can help satisfy sugar cravings and avoid unhealthy snacks that impact your waistline and blood sugar. Blends like Bliss Break and Mmm…Maple (sugar free and no artificial ingredients), can really take the edge off when you need a little somethin' somethin' in the afternoon.
When it's time to sleep (rest & restore), choose herbal teas that are naturally caffeine-free to help you unwind. Count your blessings, not sheep, by nodding off with a cup of Grateful Dreams.
EMOTIONAL SELF-CARE is getting in touch with your feelings and then moving forward in a way that honours those emotions. Identifying, accepting and expressing a wide range of feelings is vital to women's mental health and well being.
Meditate
Practice Gratitude – journal or think about every little thing you're thankful (like the delicious tea you're sipping on)
Deep breaths
Take a long soak in the tub
Diffuse some essential oils
Watch a funny movie (or a tear-jerker)
I'd recommend drinking Inner Glow – it's a stunning blend of herbs and flowers designed to provide an overall sense of comfort and well-being.
SOCIAL SELF-CARE involves having fun and connecting with the people you love. Cultivating strong personal relationships positively impacts happiness and longevity. For women, friendships are critical to our quality of life and become even more important as we age and face difficult challenges like divorce, sickness and the death of our loved ones.
Tea with a friend (visit, call or Zoom…whatever works)
Volunteer in your local community – when you give of your time or effort, you always get back more than you gave.
If you know someone who could use a hug in a mug, consider gifting a boxed set like my Steeping BeauTEA Essentials. I can even include a note card with your personal message.
SPIRITUAL SELF-CARE includes the activities we engage in to find and nurture a sense of connection to a Higher power and give greater meaning to our life. It's understanding our place in the universe and connecting to a larger purpose. Spirituality is exploring and expressing our beliefs and values and can mean many different things.
Meditate (listen to a guided meditation on YouTube if you're a newbie)
Yoga
Spend time in nature (walks, hikes, bird watching)
Get creative (cooking, music, arts, writing)
Personally, I love to sip on Chakra Gold when I'm having some Zen time.
INTELLECTUAL SELF-CARE is about finding the balance between stimulating your mind, and giving it a well deserved break. It's being responsible for your own personal growth and development through continuous learning, education and engagement in new things.
I hope this information has helped you slow down and think about ways you can incorporate tea into your daily self-care.
Remember, you can't pour from an empty cup. Take care of yourself first.
Sending you virtual hugs and huge teapots filled with liquid therapy, Tracie xo
Now…a shout out to some of my personal self-care faves/resources:
C'est La Vie Wellness – Seriously love the incredible ladies at this family-run wellness clinic in Bronte. Services include nutritional counselling, naturopathic medicine, mental health counseling & energy medicine. Book a free consult (15-minutes) with Dr. Sofie, online or in-person to assess your needs.
Ms. Fit for Life – Susan and her trainers are beyond fantastic and I highly recommend this boutique health & fitness studio for women who want a more personal experience with strength training. They specialize in body sculpting for women over 40. Thank you!! Book a complimentary health & fitness assessment.
PositiviTea Talks with Brenda Jasmin – A speaker, positivity educator and life coach, Brenda (one of my business besties!) inspires women to lead happier, more fulfilling lives by teaching them how to implement simple, proven techniques based in the science of happiness and positive psychology. She's built a community of flourishing women who attend her monthly workshops and I'm so privileged to be part of it!
Mirage Esthetics Spa (formerly Pretty In Pink) – Sometimes you need to call in the professionals and get the TLC that can only come from visiting a beautiful spa. Be sure to check out everything Priya and her talented team have to offer!
The Obesity Code – I can't say enough about this incredible book by a Toronto Nephrologist, Dr. Jason Fung. If you want to really understand how our hormones impact weight loss, health and type 2 diabetes, in easy to understand language, I highly recommend you read this book. Total game changer and I wish I knew all this info 20 years ago!!!!
The Teacup Attic – head on over and visit my friend & fellow tea addict, Cynthia, and pick out a beautiful vintage tea cup for you or a loved one!
100 Women Who Care (Oakville) – I love being part of the Oakville chapter of this women's giving circle where we make a huge impact for deserving local charities in our own community.
Marie Forleo – Always enjoy her weekly videos/podcasts and loved her book, Everything is Figureoutable.